INSIDE: The best tips for finding unique Bali points of interest & events that locals love.
Daydreaming of a holiday getaway to Bali, the Island of the Gods?
It doesn't matter if you are a regular, or if this is your very first time, the one thing all visitors to Bali need is up-to-date info about:
the best places to visit in Bali
special deals
generous coupons
hot restaurant openings
new hotels to stay at
fun events, and
where to shop for the best Bali bargains.
One of the best places to find info about new Bali points of interest and events is in local Bali newsletters, magazines, & newspapers.
Plan your BEST EVER Bali itinerary with the help of these local publications.
Here's a round up of the best ones to read below.
Disclosure: This article contains affiliate links. If you make a purchase after clicking on one of these links, we may receive a small commission at NO extra cost to you.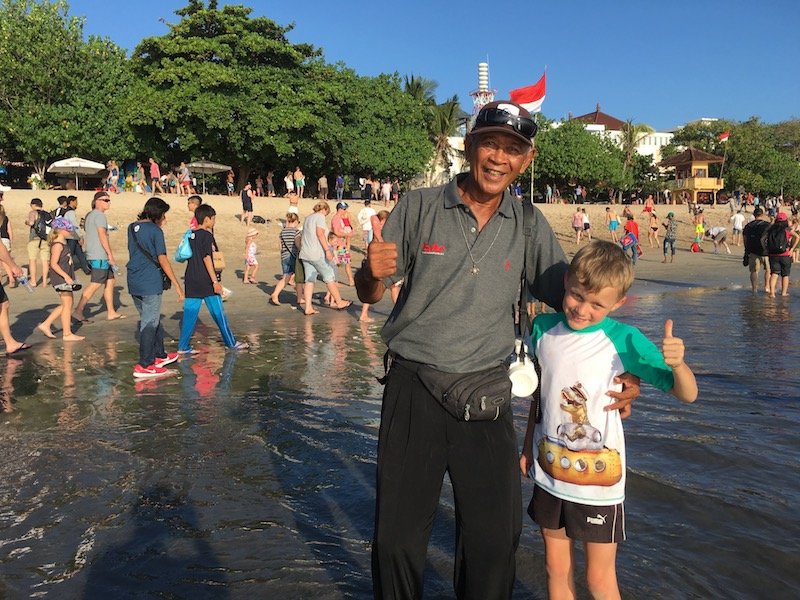 THE INSIDE SCOOP: FINDING BEST BALI POINTS OF INTEREST & EVENTS
Local Balinese Publications
These are the best places to find:
current and local info of what's on (such as the Bali Sea Turtle release on Kuta beach pictured above)
NEW Bali points of interest (Bali attractions are ever-changing!) and
what's coming up to do in Bali?
Check out local Balinese news publications and magazines before you go, AND when you arrive.
Things change quickly!
Keep your eyes open to spot them – in newsagencys, but also at the airport, popular cafes and restaurants, & at local attractions in Bali.
These publications are SO useful when you are in the midst of your Bali itinerary planning, but also for adding new places you didn't know of before to your daily plans.
Plus, you can find discount vouchers and special deals on entry prices, tours, and restaurants.
You can discover where to find the best beach clubs, day spas for the whole family, and tropical drinks for the grown-ups of the group.
Heaps of inspiration for awesome places to go in Bali with kids. Including kid-friendly adventures you've never heard of before
Where to find the best Water sports, and tours to Ubud, the rice terraces, Ulun Danu Beratan temple, Bali swing, Nusa Lembongan & Mount Batar
You'll find actual dates and times for local markets (and notifications when things won't be on as usual), workshops, yoga classes, and art and craft.
Researching and digging deep into these kinds of publications is the way we find things that others don't.
Using local publications helps you to get off the beaten track, and into locals-only territory too.
We LOVE and are so grateful to ALL the publishers who help us find the good stuff.
---
RELATED: Ultimate Guide of the Best Things to do in Bali with Kids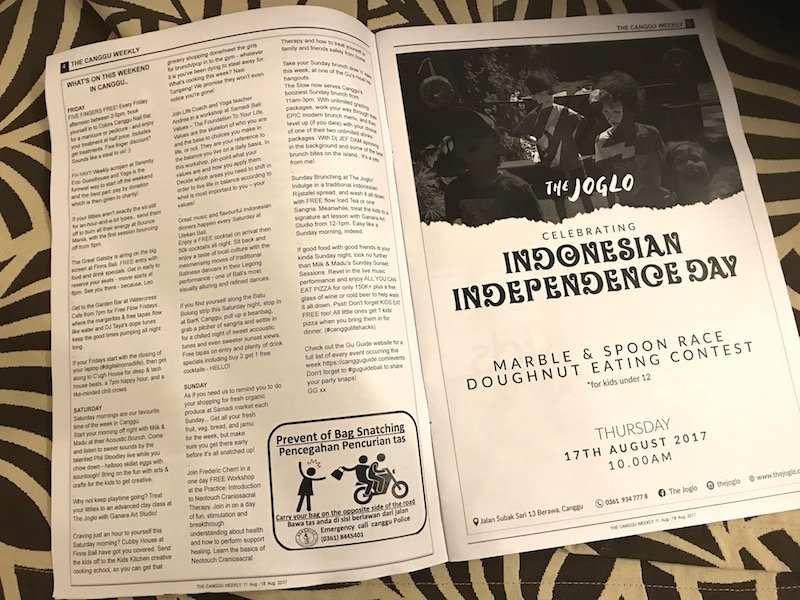 Best Bali Magazines & Newspapers
Want to know what magazines and papers to look out for, where to find them, and all the links to find the current edition online?
There's a bundle of local Bali newspapers and magazines, but we try to steer clear of the ones that are too touristy or full of ads as they are a bit generic and don't give us real or current information.
We want to know where the locals go, where the expats hang out, and go there too.
That's where some of the local smaller-scale publications can help.
Here's the list of the ones we use, and like best.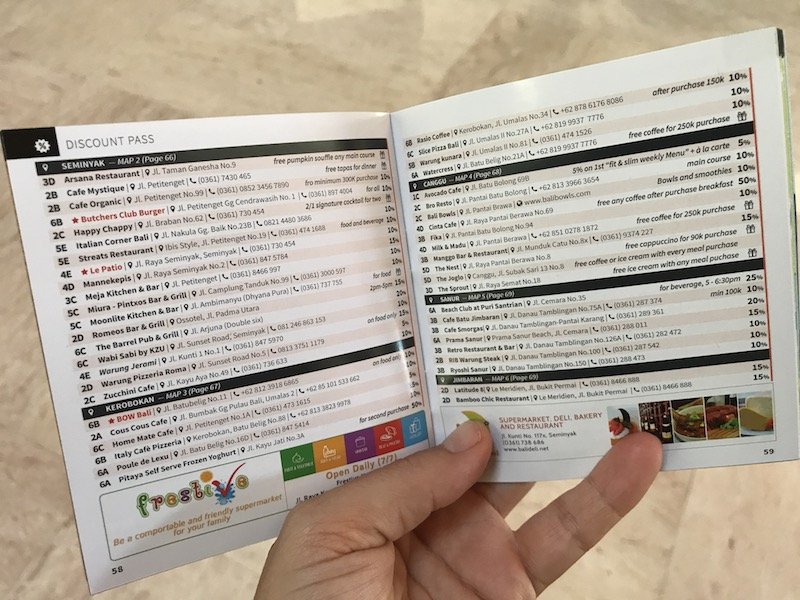 THE BEST BALI TRIP PLANNERS!
Our favourite Bali newspapers and Bali magazines, in no particular order.
No.1: Bali Pocket
This little pocket-sized magazine for expatriates and Bali lovers is one of the best, with heaps and heaps of REAL DISCOUNTS inside.
It's in our top three of publications listing unique destinations in Bali, rather than the Bali tourist spots. xf
Find info about the current edition of Bali Pocket Guide here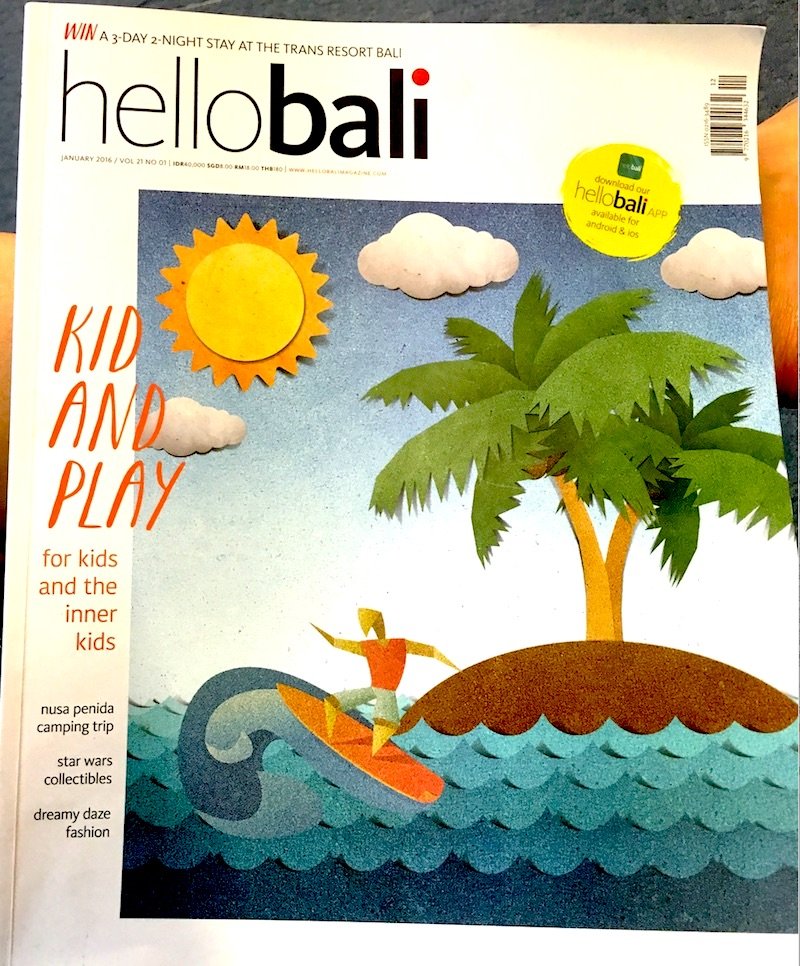 No.2: Hello Bali
Hello Bali is my personal favourite.
The glossy Bali magazine is full of fun and helpful stories, showcasing what's new and happening in Bali.
You can also download the app at the App store or Google Play.
The app gives you full navigation to your favourite places in Bali, instant notifications about various discounts and promos, and helps you find the best new restaurants, hotels, and beaches.
You can also check what other people thought of places before you commit to going there.
Get a hold of the current Hello Bali E-magazine here.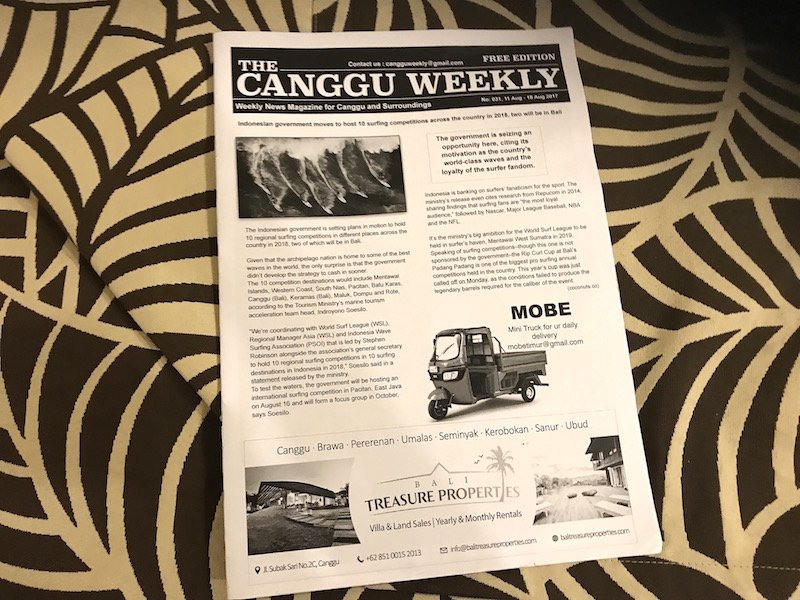 No.3: Canggu Weekly
We love this free magazine filled with all the latest events and stuff to do in Canggu.
Unfortunately, I can't find any reliable information on where to pick up the latest issue.
Try emailing them at [email protected] before you go to ask for the latest copy available.
They do upload them to the publishing platform "Scribd" (google it) so might be worth a quick search there too
(Hot tip: Search by publisher Abhishek Singh Yadav)
It's worth hunting down a copy – there's 800 printed each week – for the list of "What's on this week in Canggu".
It's FILLED with:
stuff to do with the kids in Bali
in-the-know info about kids classes in Bali
discount dining in Bali
where to find live music in Bali
Bali markets
Bali kids party venues
Bali workshops and classes
Bali yoga studio timetables
snippets of local gossip and news
plus, other good stuff you can't find in normal tourist publications.
As it's for locals.
There is also a sister publication called Seminyak Weekly.
Keep in touch via their Facebook page.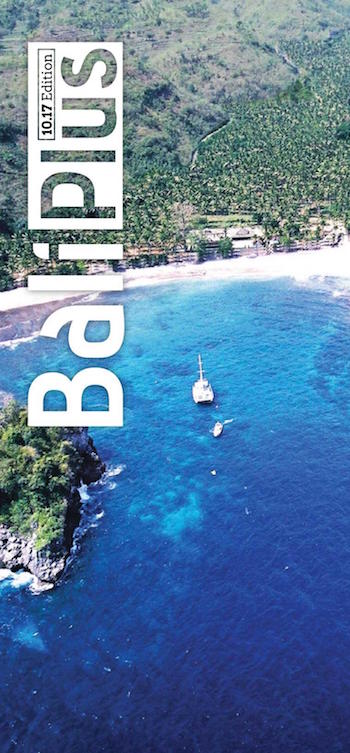 No.4: Bali Plus Guide
Bali's Biggest Tourist Guide Book is loved by both travellers and tourism-related industries.
It has a reputation as the most comprehensive complimentary Guide Book for visitors in Bali.
Check out the latest edition of Bali Plus Guide here.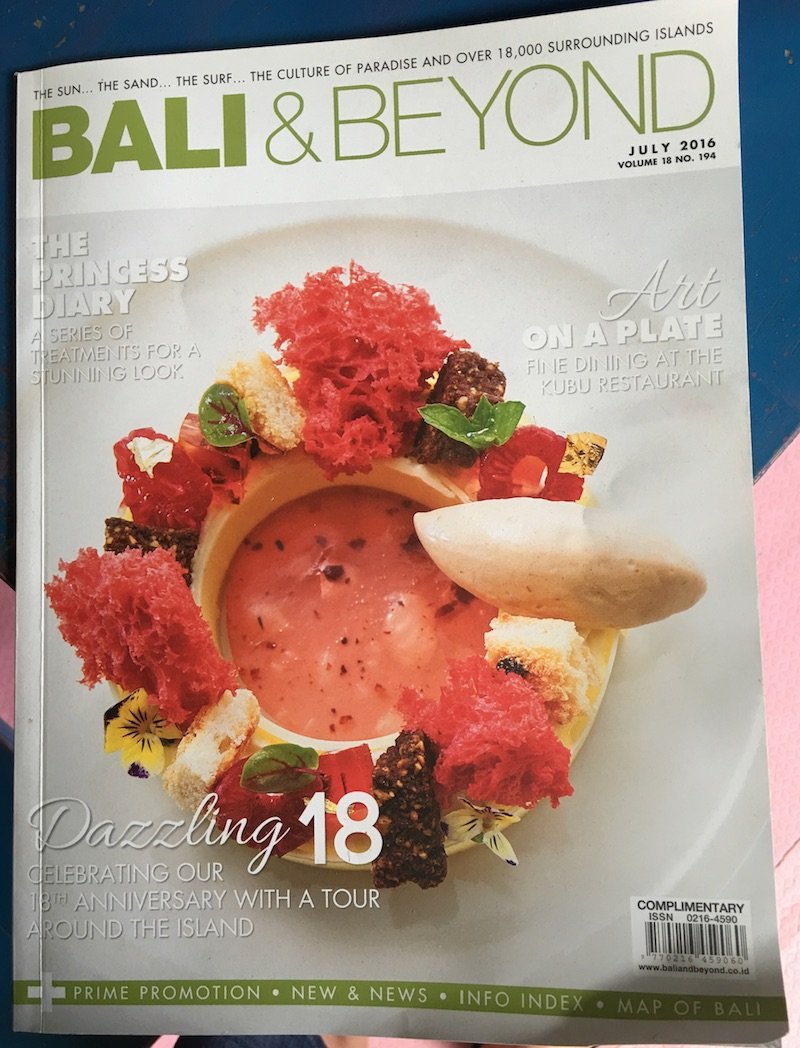 No.5: Bali and Beyond
This is a monthly tourism magazine for those currently in Bali and seeking new adventures, as well as those in "Bali Holiday" planning mode.
This is also in our top 3 reads.
Read the current issue of Bali and Beyond here.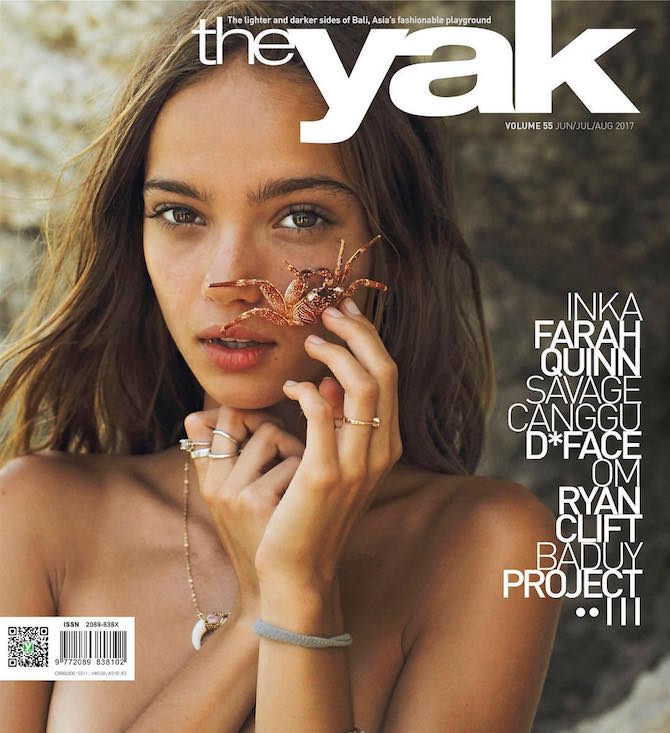 No.6: The Yak Magazine
For those mamas and papas who live style and design, this is a Bali publication of your dreams.
It's way past my level of cool, but I love to read and dream.
Read the current edition of the Yak magazine here.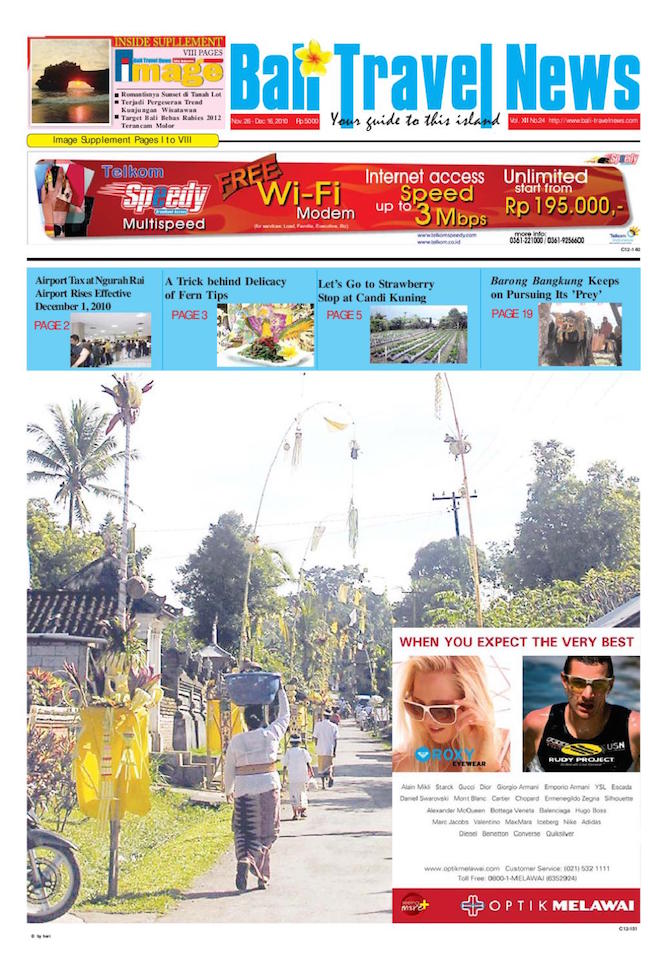 No.7: Bali Travel News
News and information for travellers to Bali, plus a tonne of local stories and interesting reads about local traditions and customs in Bali.
Read the current edition of Bali Travel News here.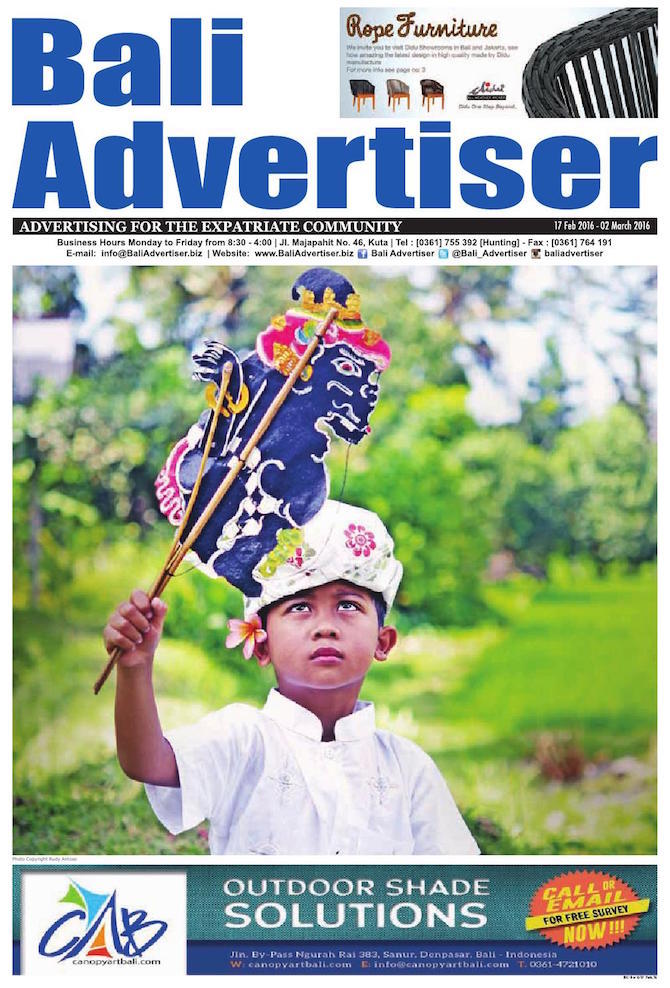 Best Balinese Newspapers – Up to Date News and Information
No.1: Bali Post
The number one newspaper for Bali itinerary planning is the Bali Post.
Click here to find the current version of the Bali International Post.
Be sure to click on and download the English-language International Edition, the International Bali Post
No.2: Bali Advertiser
The paper for the Expat community.
Click here for the current edition of the Bali Advertiser.
No.3: Kuta Weekly
Free weekly newspaper for the Kuta region
Click here to find the current issue of Kuta Weekly
No.4: Sanur Weekly
News, views, and information from the Sanur area of Bali
Find the current edition of Sanur Weekly here
No.5: Lombok Guide
Lombok's most comprehensive tourism paper and your guide to the best that the island has to offer!
Read the current edition of the Lombok Guide here
Good luck with planning your ultimate Bali itinerary!
It's our favourite thing to do.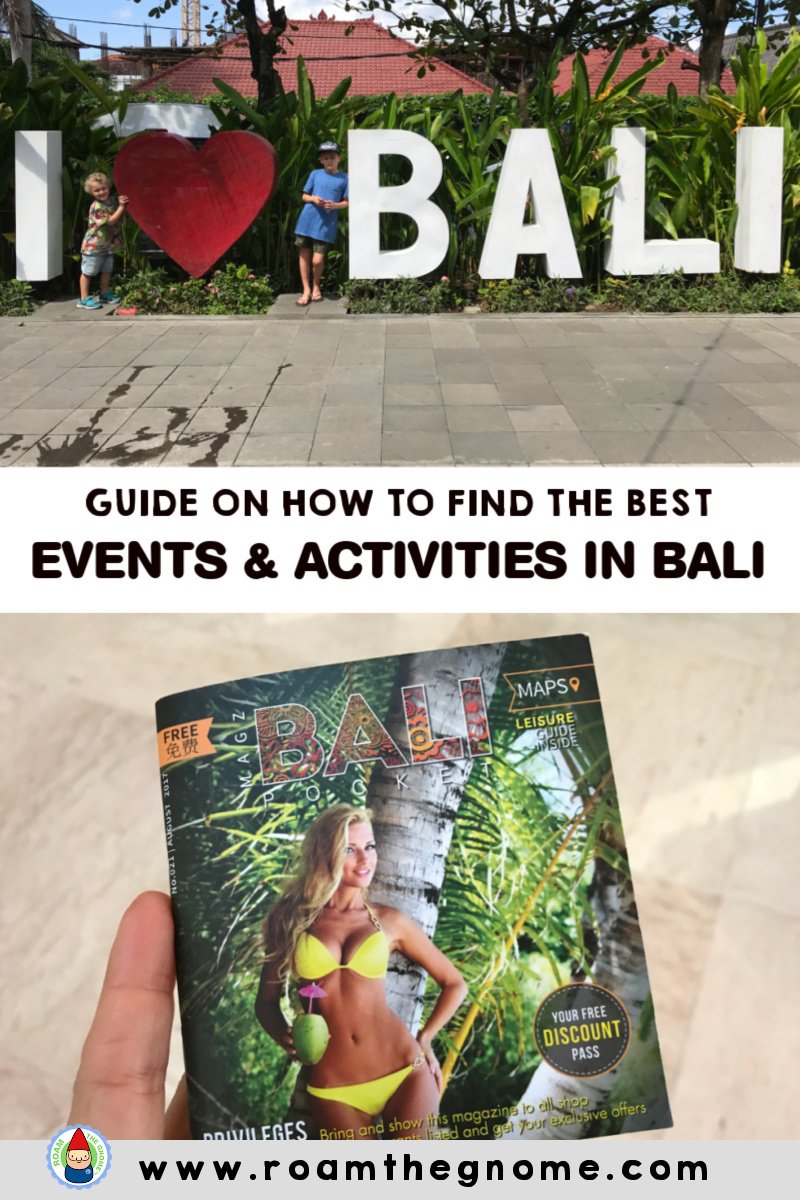 Looking for more Bali tips?
Click the links in blue below for more Bali advice & suggestions