INSIDE: Roam the Gnome's Insider's Guide to the Australia Zoo Shop, Beerwah Queensland.
There is a gift shop at Australia Zoo, full of Steve Irwin memorabilia, and Australia Zoo souvenirs featuring the animals, Bindi, Robert, and also Stella, their pug dog!
Take a sneak peek inside the shop below.
Disclosure: This article contains affiliate links. If you make a purchase after clicking on one of these links, we may receive a small commission at NO extra cost to you.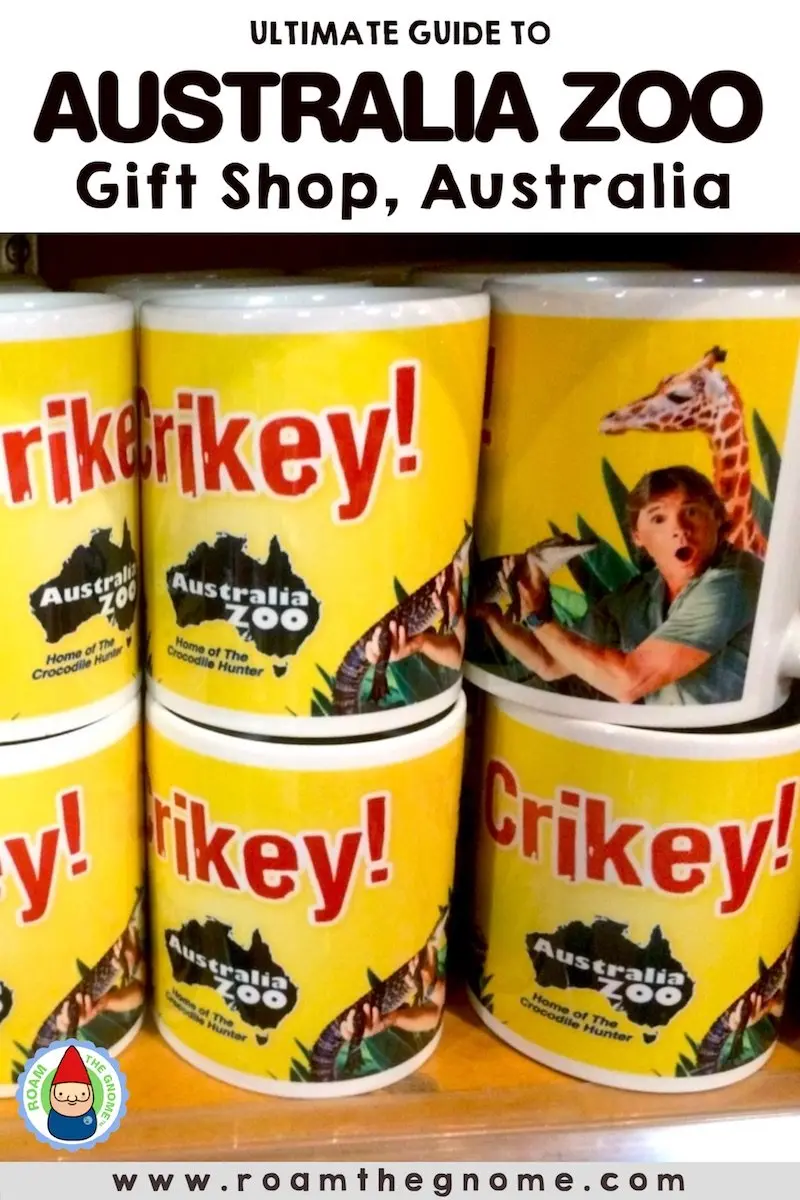 Inside the Australia Zoo Shop
Did you know that when you visit Australia Zoo and buy souvenirs from the gift shop you're helping us to protect wildlife and wild places as Australia Zoo funnels the profits from these sales back into wildlife conservation!
That makes for guilt-free shopping indeed.
(Same goes for shopping in their online store too.)
Shop away.
---
Book Now: Australia Zoo Entry with transfers from Brisbane (BEST SELLER)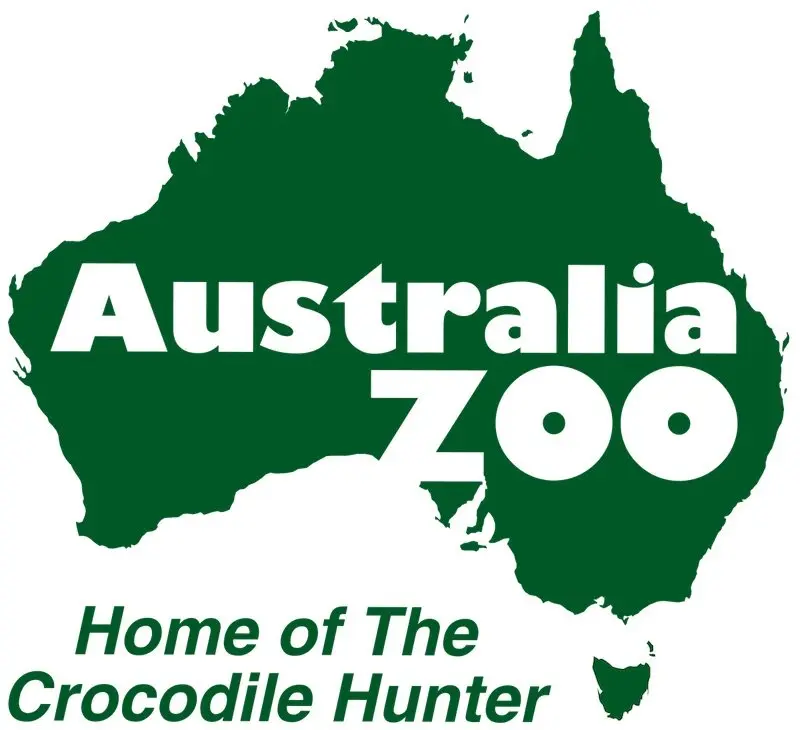 Best Things to Buy at the Australia Zoo Gift Shop
There are so many options for souvenirs at the Australia Zoo Store.
But these are our faves.
---
RELATED: Ultimate Guide to the Best Day Out at AUSTRALIA ZOO for Kids!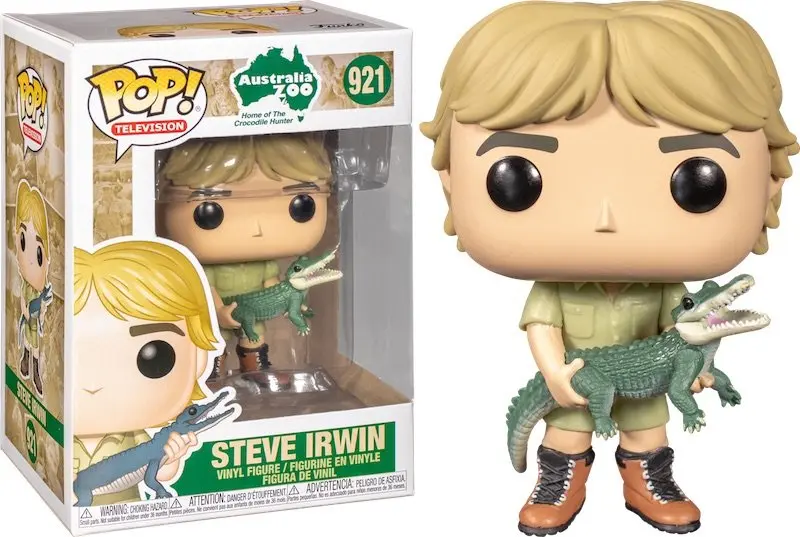 The Crocodile Hunter Pop! Vinyl Toy
Crikey!
Steve's dressed in his signature khaki and holding a croc of course.
This is the coolest collector item you'll ever find.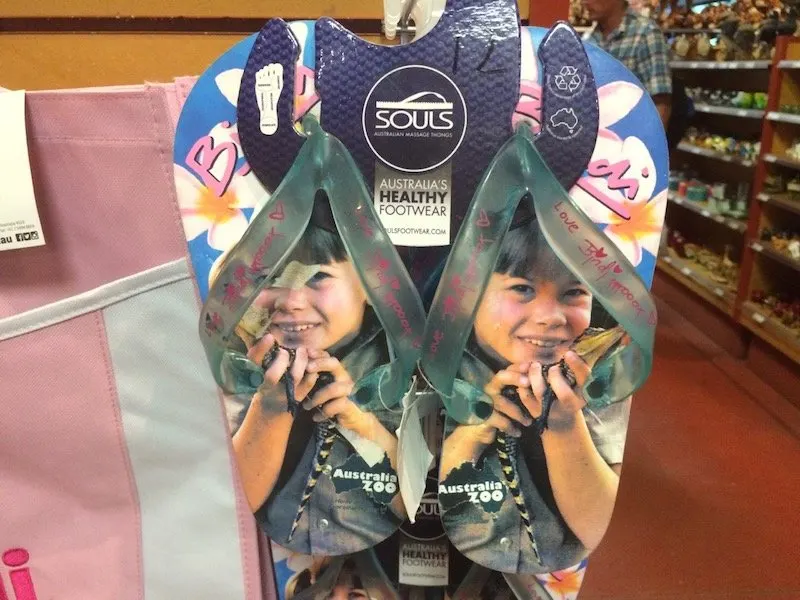 Bindi Irwin Thongs
Our favorites include Bindi Irwin thongs!
Flip flops, jandals… they go by many names but in Australia, thongs is the correct terminology.
Thongs are Australia's most essential footwear.
EVERYONE wears them, young and old, but one of Australia's most iconic sites is to see a 'bushie' out battling the muddy roads, or a bogged car, or moving a snake out of the way, while wearing 'pluggers'.
They are Australia's go-to shoe at home, the beach, the shops – just about anywhere during the day in fact.
Robert Irwin Dinosaur Hunter books
These Robert Irwin books never get old.
Boys and girls who have a fascination with dinosaurs will LOVE these stories.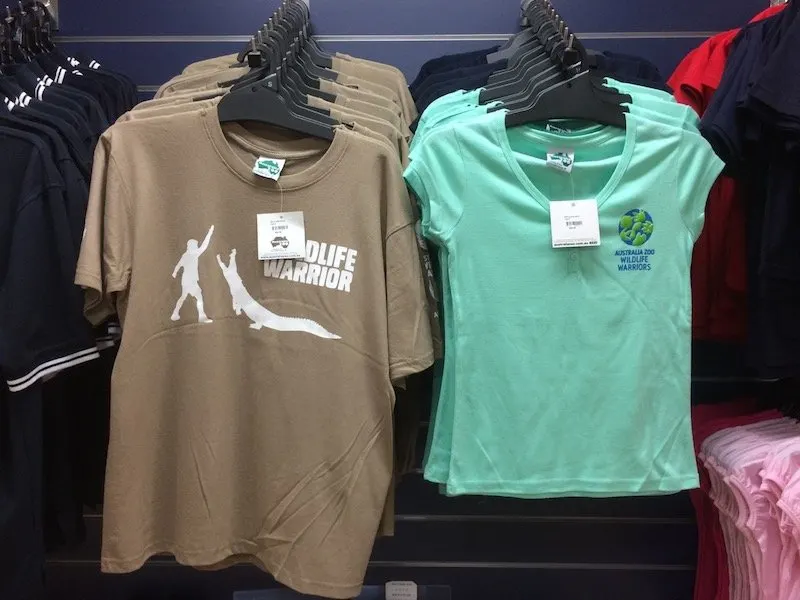 Australia Zoo clothing & t-shirts
You can buy ALL kinds of clothing and apparel at Australia zoo, including Australia Zoo t-shirts, AND the good old KHAKI shirt just like Steve used to wear.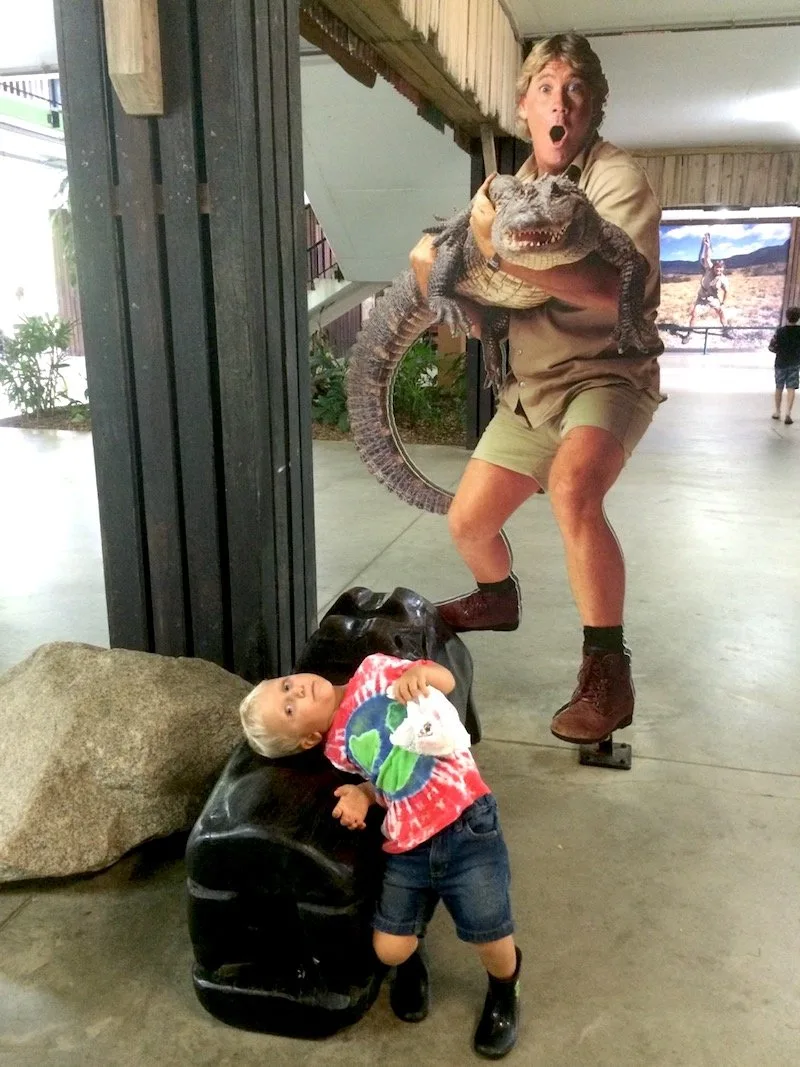 Crikey Khaki Clothing
The standard Khaki outfit of the Crocodile Hunter khaki shirt and shorts that Steve was famous for comes in all sizes.
Find it for kids, for teens, for toddlers and preschoolers, AND in adult sizes too.
Shirts are embellished with "The Crocodile Hunter" logo above the pocket.
Oh, the memories of this mad, wild, crazy but intelligent man!
You can also by the Crocodile Hunter costume pack for adults and kids, with bonus rubber snake included!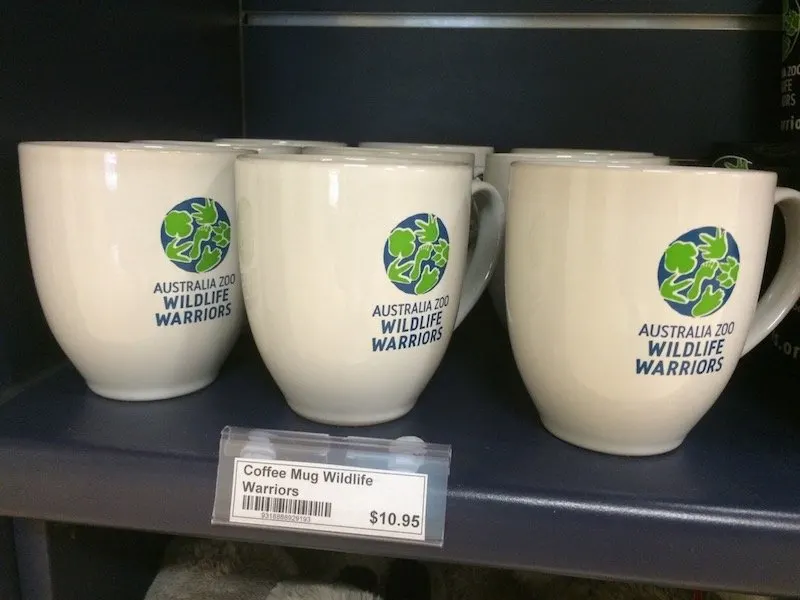 Australia Zoo Wildlife Warriors Mug
A mug is always a good idea.
It's a souvenir you can use back home, every single day, to remind you of your trip.
Buy a Crikey coffee mug, or one of the animals.
That's the best kind of souvenir gift.
Hot tip: Did you know kids can join the Crikey Club? Check the Crikey magazine on their website.
The Crocodile Hunter Souvenirs
Gift ideas for Croc Hunter fans:
Australia Zoo Calendars
The Crocodile Hunter DVD collection in entirety
Crocodile Hunter puzzles
Crocodile Hunter Crikey! lunch cooler
Crocodile Hunter signature cap
Crocodile Hunter stationery – pencil cases,
Crocodile Hunter car number plate
Crocodile Hunter tote bags, shopping bags and backpacks
Crocodile Hunter snow globes
Wildlife Warrior branded goods
Crocodile Hunter DVDs
All souvenir sales help the Irwin family and zoo keeper team continue with their conservation projects.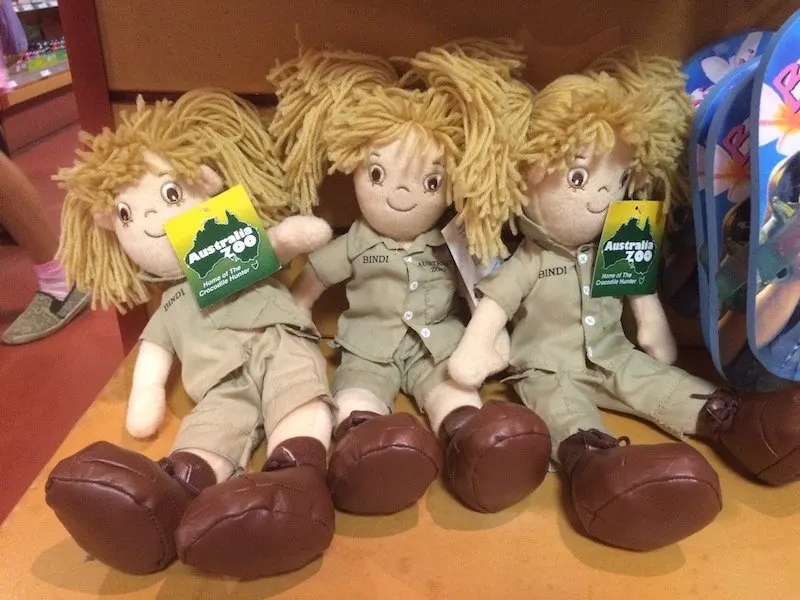 Bindi Irwin Souvenirs & Robert Irwin Souvenirs
There's a range of Bindi souvenirs including fashion clothing, motivational souvenirs, drink bottles and more.
Bindi Apparel including t-shirts, hats
Bindi Irwin dolls
Bindi Irwin's "Change" journal
The best Robert Irwin souvenirs are his Wildlife calendar featuring his impressive photography, wildlife prints, bags, hats, apparel, and mugs.
But the cutest one is his photo on the Sea Turtle cushion cover!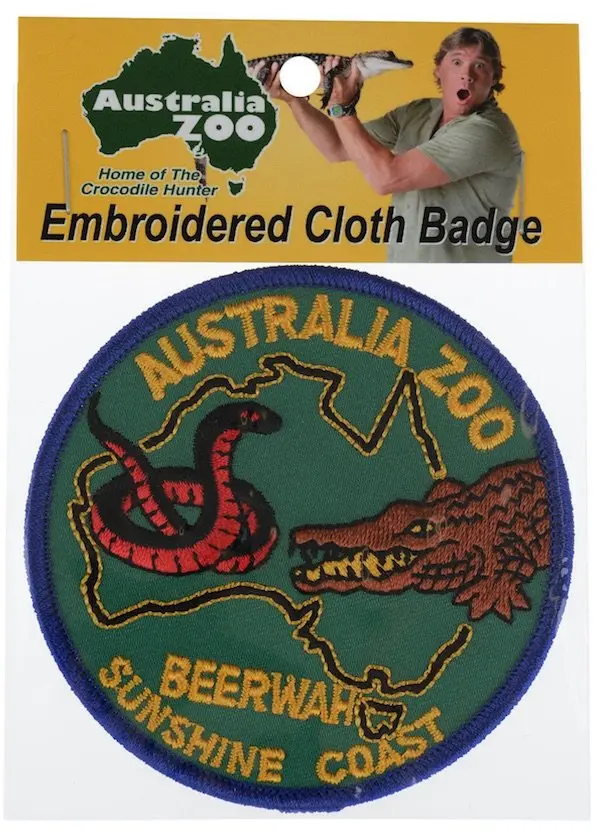 MORE Australia Zoo Souvenirs on a budget
There's also LOTS of pocket money souvenirs at Australia Zoo including:
animal cups and mugs
keyrings
magnets
tote bags
shopping bags
tea towels
souvenir spoons
cloth patches (badges) for the Scout blanket or backpack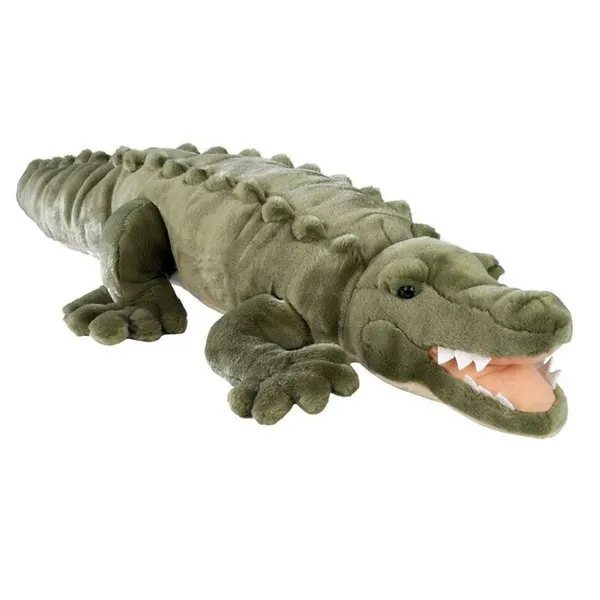 Australiana Souvenirs at Australia Zoo
Plus, you can load up on Australiana souvenirs and soft toys such as:
soft plush koala bear toys
dingo toys
kangaroo plush toys
echidnas and platypus, and
plush crocodile toys if you fancy too.
Plus, foodie treats including Macadamia chocolates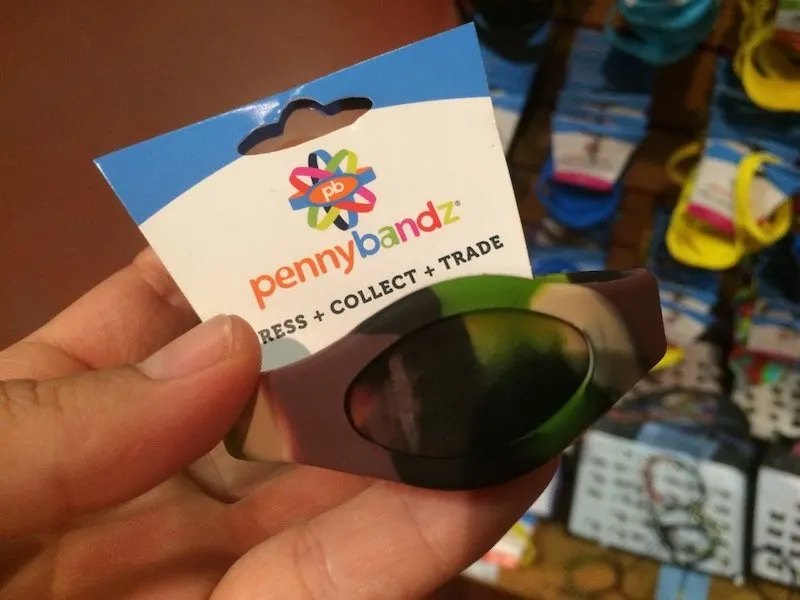 Australia Zoo Pressed Pennies
The best thing to buy at Australia Zoo if you are a collector of pressed pennies, is this Pennybandz.
You can use to this to wear your favorite pressed penny on your arm, like a bracelet.
Change them out from time to time with pressed pennies from all your best family trips.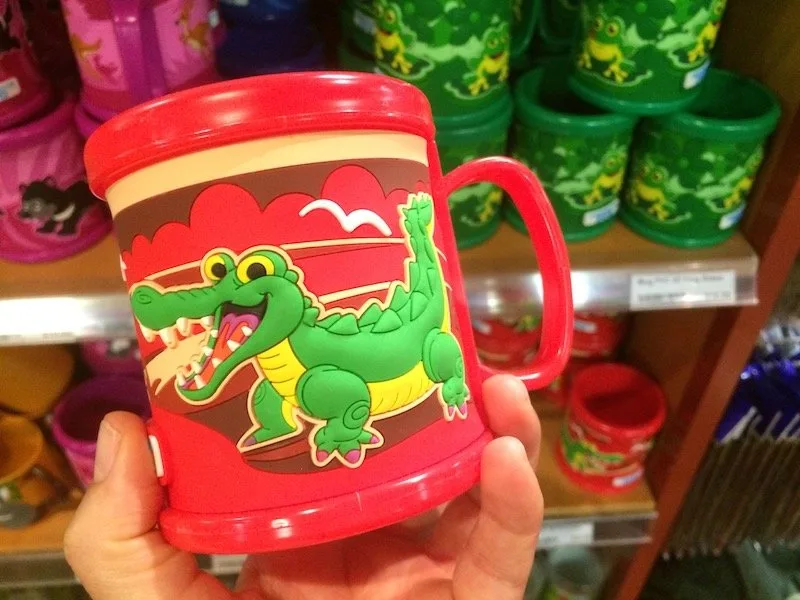 THE INSIDE SCOOP: AUSTRALIA ZOO SOUVENIR SHOP
Correct at time of publication on Roam the Gnome. Please check with venue for updates. We apologise in advance if there have been any changes we are unaware of. All prices in AUD dollars, unless otherwise stated
Address: 1638 Steve Irwin Way, Beerwah, Queensland Australia
Telephone: 07 5436 2000
Website: Click here
Australia Zoo Opening hours
Open 9am to 5pm daily
Closed Christmas Day.
---
Book Now: Buy your Australia Zoo full day tour tickets here (with transfers from Brisbane, the closest airport/city)

Where is Australia Zoo located?
Take a look at the map below. Beerwah is approximately 1.5 hours north of Brisbane, via train or 1 hour 10 minutes by car, following the M1.
Beerwah is near the Glass House Mountains, north of Caboolture, and slightly inland from Caloundra. It's slightly North west of Bribie Island.
Toadstool Rating: Australia Zoo Store
Worth at least 30 minutes of your time.

Looking for More Things to do on the Sunshine Coast & Brisbane?
Click the links in blue for more Sunshine Coast & Brisbane attractions.