INSIDE: The Ultimate Guide to USA Travel can be found at this America Travel Blog, Roam the Gnome™. Updated 2019.
Roam the Gnome's AMERICA TRAVEL BLOG is a one-stop shop for SUPER DOOPER FUN ideas & activities for family travel in America with Kids.
It's our goal to answer all your questions about planning a holiday to American including:
When is the best time to visit America?
What should I visit in America?
What are the best American attractions for kids?
What cities in America are the best for family travel?
What kind of travel insurance do I need for America?
how do I organise a hire car for America?
the best things to do in New York with kids?
the best things to do in Los Angeles with kids?
Plus, we're collecting all the best Disneyland tips and the best Disney World tips too
Take a look at our collection of ideas for travel in America with kids below.
Disclosure: This article may contain affiliate links. If you book a product or service after clicking on one of these links, we may receive a small commission at NO extra cost to you.

Roam the Gnome's America Travel Blog Tips
We invite you to read the stories on our America travel guide, watch our videos, and gather tonnes of useful tips from this travel America blog to help plan your family vacation itinerary.
It's the place to find all the information you need about these popular fun cities in America.
You'll find the best American vacations for families, and plenty more ideas for unique or off-the-beaten track adventures.
PS: Did you know you can search the site, city by city?
We guarantee that Roam the Gnome Family Travel Blog will help save you time, stress & money when planning to BOOK YOUR NEXT TRIP!
Things to do in America on a Budget
Correct at time of publication. Please check with venue for updates. We apologise in advance if there have been any changes we are unaware of. All prices in US dollars.
At Roam the Gnome, we feature tips to help you travel America on a budget.
We also share the places to go in America for 5-star splurges, and all inclusive family resorts too. Because sometimes, you have to!
We LOVE exceptional experiences, amazing one-of-a-kind adventures and the odd VIP stay to keep things interesting, so we share stories on how you can book these things too.
FEATURED CITIES – AMERICA WITH KIDS
The best of the must-do America attractions
NEW YORK TRAVEL BLOG
Best Things to do in New York with Kids
We love New York, and with kids it's even better.
You'll be surprised how many New York attractions were created with kids in mind.
There are so many things to do in New York for kids, we've already written 40 stories!
There's plenty more in the pipeline.
Do visit the famous New York sights at least once.
Empire State Building
Top of the Rock
Rockefeller Center
Central Park
Natural History Museum of New York
Central Park Children's Zoo
Battery Park, with views to the Statue of Liberty
If you like meeting the locals when you travel, we highly recommend spending some time on the the Hudson Greenway walk.
There are some awesome New York playgrounds along the way and chances for the kids to play with other kids.
You can find ALL these stories and more in the link below, in our comprehensive guide to New York with kids.
Click here for the ULTIMATE GUIDE TO THE BEST THINGS TO DO IN NEW YORK WITH KIDS
---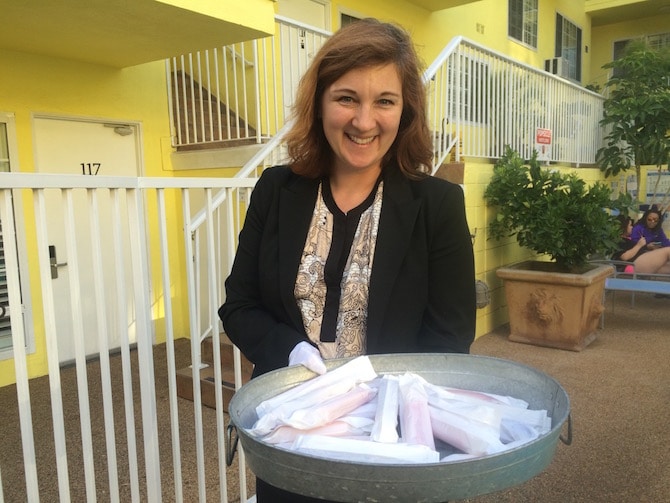 LOS ANGELES TRAVEL BLOG
Best Things to do in Los Angeles with Kids
Los Angeles is the obvious destination for an America vacation.
Disneyland and California Adventure Park are on most family bucket lists, so that's one reason why.
The Hollywood Boulevard Avenue of Stars, Madame Tussauds, and spotting a celebrity rates high too.
But there's so much more to Los Angeles than meets the eye.
Take a look at the beginning of our collection of ideas for Los Angeles for kids below.
More stories coming soon!
Destination: Los Angeles with Kids
More Los Angeles Attractions for Kids
These stories, coming soon!
Visit the Pasadena Children's Museum
Star Line Tours
Santa Monica pier
La Brea tar pits
Ghirardelli Soda Fountain
Johnny Jets Diner
Catching the LA Metro train to Little Tokyo
Griffen Park Carousel
Griffen Park playground
Los Angeles Zoo
Click here for the ULTIMATE GUIDE TO THE BEST THINGS TO DO IN LOS ANGELES WITH KIDS
---

HAWAII TRAVEL BLOG
Best Things to do in Hawaii with Kids
Hawaii with kids is three words – sun, surf, sand.
It's not a cheap holiday in America. The mainland is a much better option for budget travellers but for those who dream of Hawaii, the prices for accommodation, food, and eating out are a rude shock.
We bought our bargain flights for $880 AUD return for the three of us from Sydney to Honolulu (yay for Jetstar!), BUT accommodation prices in Hawaii start from a minimum of $200 AUD a night for a one room apartment in the back lots of Waikiki.
We bit the bullet and booked four (expensive) nights at Disney Aulani for our trip in April next year as part of our quest to visit ALL the DISNEY parks and this magical Disney hotel in Hawaii. This is a dream coming true. (We will report back soon.)
Despite the exorbitant expenses, Hawaii has an olde-world charm, and still retains something of that 50's Gidget surfing lifestyle aura and I can't wait to return in the new year.
Places to visit in Hawaii
On our upcoming trip, we have plans to:
visit the Honolulu zoo and the Waikiki aquarium
walk Diamond Head crater
see Hawaiian sea turtles in the wild
shop in Target, and Ross Dress for Less
spend a day browsing the Ala Moana shopping mall, the Waikiki beach walk retailers, Macy's
buy a fresh flower lei at Aunty Bella's Lei stand at the Royal Hawaiian center
eat dinner at the International Market Place while watching a traditional hula dance show, and shop for Hawaiian souvenirs here too
visit the Pacific Aviation Museum
enjoy dinner at the Cheesecake Factory
try an original chicken sandwich at Chick-fil-A for the first time (if the first Chick-fil-A in Hawaii is open in time)
eat shave ice at Matsumoto (or one of the others scattered around the place if the queue is too long)
experience a luau and visit the Polynesian Cultural center
swim at waikiki beach
snorkel at Hanauma Bay nature preserve
eat dole whip at the Dole plantation
ride the slides at Wet'n'Wild Hawaii
visit the Honolulu Museum of Art
take a look back in time at the Pearl Harbour National Park
see the rescue cats at Lanai Cat Sanctuary
and see the gorgeous Iolani palace, home of the former King.

Hawaii with Kids
Here's one place we recommend visiting in Hawaii with kids.
Destination: Hawaii
Click here for the ULTIMATE GUIDE TO THE BEST THINGS TO DO IN HAWAII WITH KIDS
---

DISNEY WORLD TRAVEL BLOG
Best Things to do at Disney World with kids
Disney World in Orlando is one of those adventures you won't quite believe.
A Disney World vacation is a chance to step out of real life, and immerse yourselves in the magic of Disney.
From the moment you arrive at Orlando airport, and catch the complimentary Disney Magical Express bus to your Disney hotel, to the moment you say farewell, it's a holiday you won't forget.
There is NO other hotel chain in the world that offers exemplary service to customers like DISNEY does.
The only hotel in America that gives us stars in our eyes is the Magic Castle Hotel in Los Angeles. Click the blue link to find out why!
PS: If you book a stay, do tell Darren we sent you and say hi from us!

Walt Disney World Parks
Did you know Walt Disney World is not just one park? It's FOUR.
Plus, a stand alone DISNEY shopping mall, Putt Putt golf, Waterparks, and more.
You'll need at least 7 full days to take in all the sights at:
Disney World
Hollywood Studios
Epcot
Animal Kingdom
Disney Springs
(We haven't even mentioned the Universal Studios Orlando attractions including the sensational Wizarding World of Harry Potter yet. You'll need another week to fit those in too.)
Once you've experienced DISNEY, it's impossible not to fall in love, and want to return – again and again and again.
Our Roam the Gnome family is now on a mission to visit all the DISNEY parks around the world.
Next stop, Paris Disneyland in November!
Click here for the ULTIMATE GUIDE TO THE BEST THINGS TO DO AT DISNEY WORLD
FREQUENTLY ASKED QUESTIONS
When is the best time to go to America?
Avoid the American summer vacation, American Thanksgiving, and American spring break, as these are the absolute peak seasons.
Whatever popular tourist attraction you do visit will be busy.
Don't even think about Disneyland, or Disney World at this time.
The best time to visit is just after American kids go back to school (around the last week of August – go in September to be safe).
The whole of fall (autumn) from September to November, up until just before the week of Thanksgiving is low season too.
March and April is warming up again, but is still doable.
Christmas in America
The Christmas period of mid to late December is super fun if you want to have a New York Christmas, skating at the Rockefeller ice rink, or enjoy Christmas festivities anywhere in the states.
What travel insurance do I need in America?
Never travel without travel insurance. Our motto is 'if you can't afford travel insurance, you can't afford to travel'.
America is one of the worst countries in which to need a doctor after falling ill or having an accident. Health care and hospital fees are expensive.
VERY EXPENSIVE.
Some would say extortionate.
Do not visit America with appropriate travel insurance, or you will be paying off the debt for years. The worst case scenario is not being able may to access quality emergency health care when you need it most.
Take a look at our Travel Insurance cost comparison to work out the best travel insurance for America for your family trip.
MORE FAQ
What is the best hire car company in America?
Alamo rent a car
Enterprise
Budget rent a car
National renta a car
Sixt car rentals
Dollar rent a car – cheapest car rental in America
Thrifty rent a car – best for ease with an online check in system available
Hertz – best rewards program
Of course, you also have all your regular car hire outlets such as Avis
Our tips for car rental in America.
Don't book your rental car from the airport. There's hidden taxes. Arrange to pick it up and drop it back to the outlet outside of the airport grounds. Most car rental companies have a free transfer service.
ASK for a discount. You never know if you have the best price unless you ask! You might be surprised.
ASK for an upgrade. All they can say is no. Build a thick skin in case of rejection, but you might be surprised!
If you will be hiring a car/s, build the cost of car insurance into your regular travel insurance. It's WAY cheaper to avoid paying the excess through this, than with the car rental company in America itself.
What are the best hotel chains in America?
The best American chain hotels include:
Marriott Hotels
Ritz Carlton (best of the luxury hotels)
Embassy Suites by Hilton
Fairfield Inn and Suites by Marriott
Courtyard Hotels by Marriott
Best Western Premier Hotels, Best Western Plus and Best Western hotels
Holiday Inn Express and Holiday Inn hotels
Crown Plaza Hotels and Resorts by InterContinental
Westin hotels by Marriott
Hyatt Place and Hyatt House
Hyatt Resorts (think all inclusive resorts style)
Residence Inn by Marriott (good for large families)
Quality Hotels by Choice
Homeward Suites
Ramada hotels by Wyndham
Days Inn hotels by Wyndham
Super 8 Hotels
Econo Lodge by Choice
SpringHill Suites by Marriott
St Regis resorts
What are the best family hotels in America?
The best luxury hotels for families in America are the Embassy suites. They offer free hot breakfasts!
The best mid range family hotels in America are the Comfort Inn and Comfort Suites
The best budget hotels for families in America are the Super 8 hotels and Days Inn.
The most fun hotels in America for families are the Gaylord hotels, the Great Wolf Lodges, and the Loews Resorts.

What travel products do I need in America?
Take a look at our best travel products for family travel here.
LOOKING FOR MORE FUN CITIES TO VISIT WITH KIDS?
We'd love to help. Click the links in blue below for our Ultimate Destination Guides.
Disclosure:
This website contains references to products and services from our favourite brands. Some of these are affiliate links. If you make a purchase or booking after clicking on one of these links on Roam the Gnome™, we may receive a small affiliate commission at NO COST to you. For our Disclosure and Disclaimer statements, and an explanation of our Advertising policy please click here
Roam the Gnome™ is a participant in the Amazon Services LLC Associates Program, an affiliate advertising program designed to provide a means for sites to earn advertising fees by advertising and linking to amazon.com, amazon.co.uk, amazon.ca. Amazon and the Amazon logo are trademarks of Amazon.com, Inc. or its affiliates.
Thank you in advance for your support in helping us to grow Roam the Gnome Family Travel™ Website Directory. Bookmark this page to keep us safe and sound.