INSIDE: Looking for things to do in Bali on a rainy day? Visit Amazone Bali
If you've been on plenty of Bali holidays with kids before, you might have run out of ideas for new places to visit in Bali with kids in tow too.
One of our favourite things to do on Bali holidays with kids is to search for indoor playgrounds and yes, there are a few.
They pop up in the most unexpected places too.
Thank goodness, as finding a western-style playground outdoors in Bali, is near on impossible.
High up on the top level of the Discovery Mall in Kuta is the Amazone Indoor Games Arcade with it's very own indoor playground and maze!
If you are enjoying Bali holidays with kids in tow, visit Amazone indoor playground in Kuta.
Find all the details below.
Disclosure: This article contains affiliate links. If you make a purchase after clicking on one of these links, we may receive a small commission at NO extra cost to you.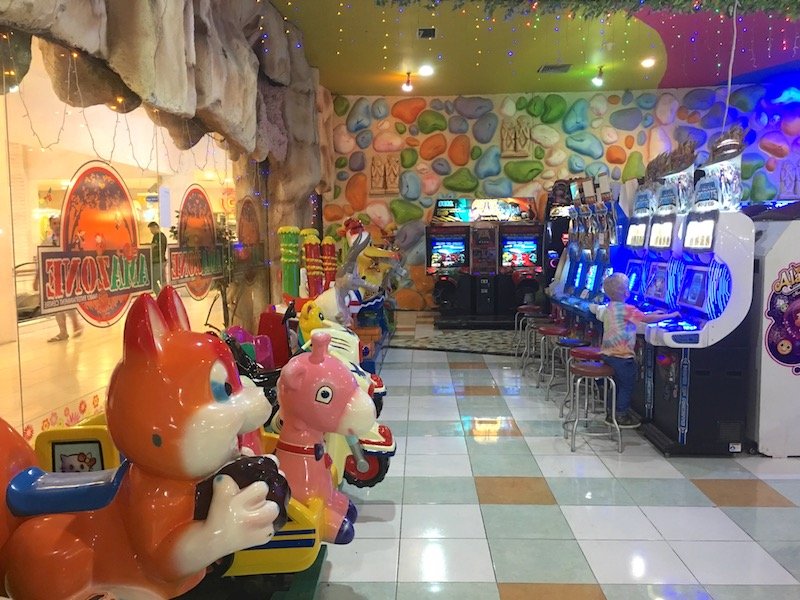 Guide to Amazone Bali Discovery Mall
Amazone Bali the ultimate fun adventure zone for kids, especially if you are looking for things to do in Bali when it rains.
Head straight up to the ticket counter and load up a special Amazone games card with your choice of credit.
(Minimum RP 100,000 or $10 AUD).
There's:
car racing games
air hockey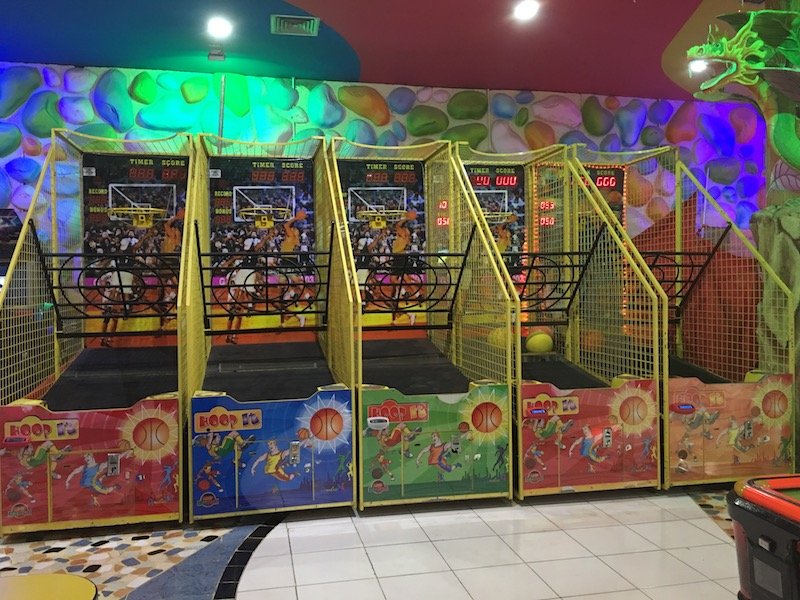 Amazone Arcade Games Kuta
basketball games
coin operated ride ons
Mario and Pacman style arcade games
machines that spit out photos
Zombies shooting game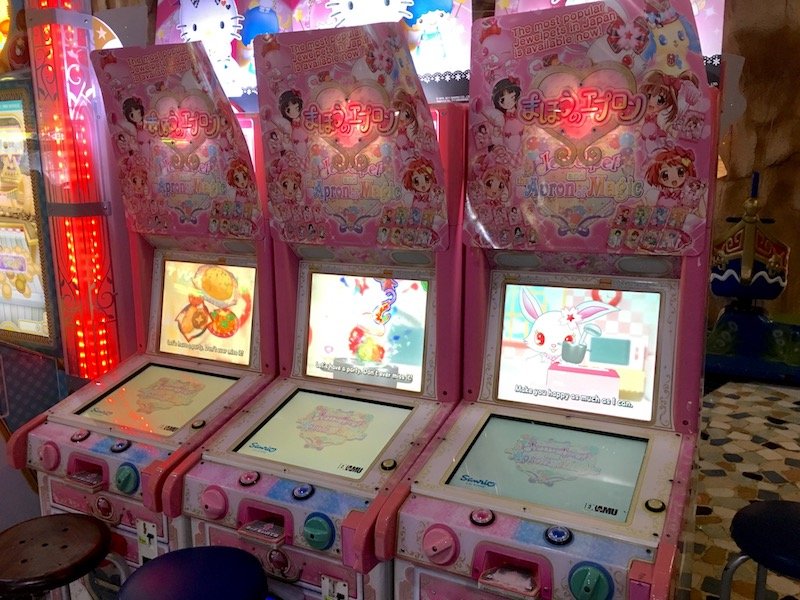 MORE Amazone Kuta activities
motorbike racing
Japanese "Purikura" booths where you can draw and design on your pics too.
---
RELATED: Ultimate Guide of Best Things to do in BALI with Kids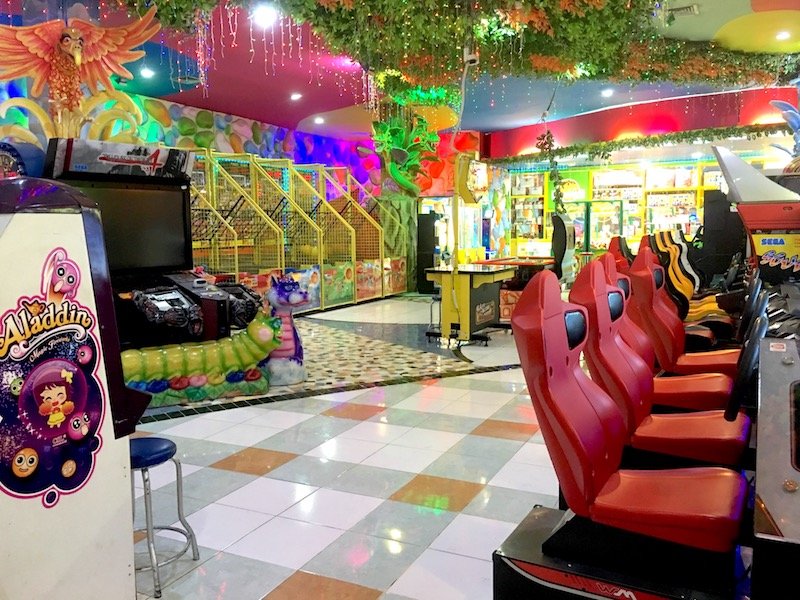 Amazone Game Center Bali
I'm a scrooge when it comes to wasting money on arcade games, so only loaded RP150,000 (about $15 AUD) onto the card.
To my absolute surprise, this kept the boys, Roam the Gnome and I going for over an hour and a half.
We had NO idea how much each game cost, despite a number showing up on the coin slot machine, so we just kept swiping the card on game after game after game (and ride) till it beeped and stopped giving us access.
The kids earned enough paper tickets to swap them out for a couple of rulers, erasers, and a Mickey Mouse pop-up pencil too.
Amazone KidsZone playground
This amount also INCLUDED entry to the KidsZone indoor playground for both boys with a pair of socks to keep.
(The soft indoor playground was RP 30,000 ($3 AUD) per child including socks.)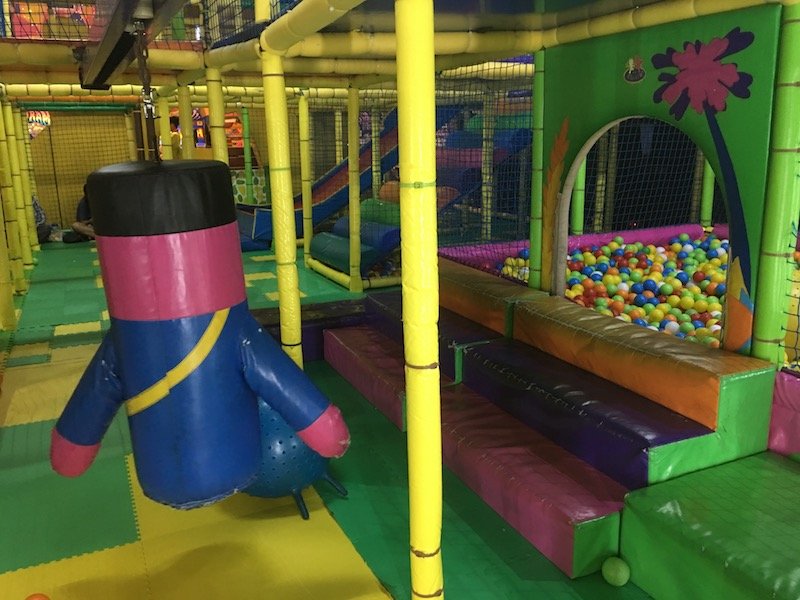 Amazone playground
There's things to pummel, and soft fall all around.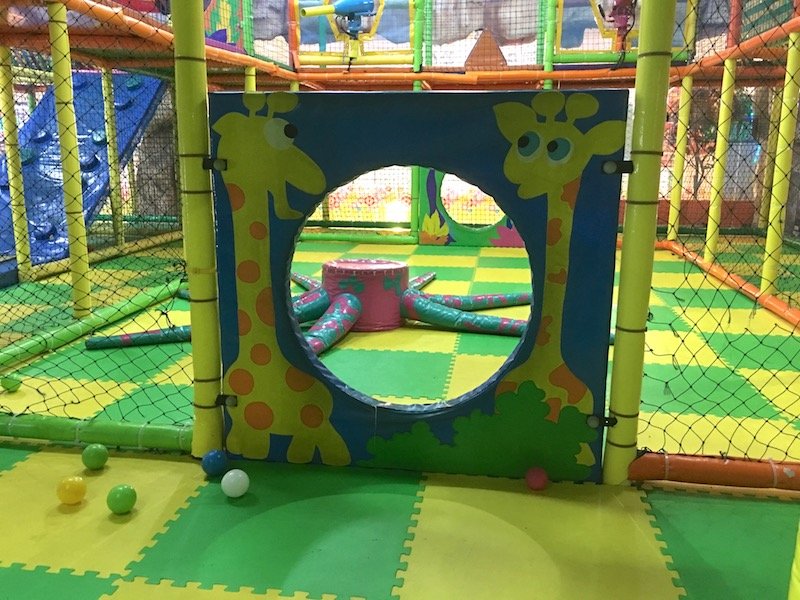 Amazone Playground Bali
It's double storey, and there's ball shooting guns on the top level.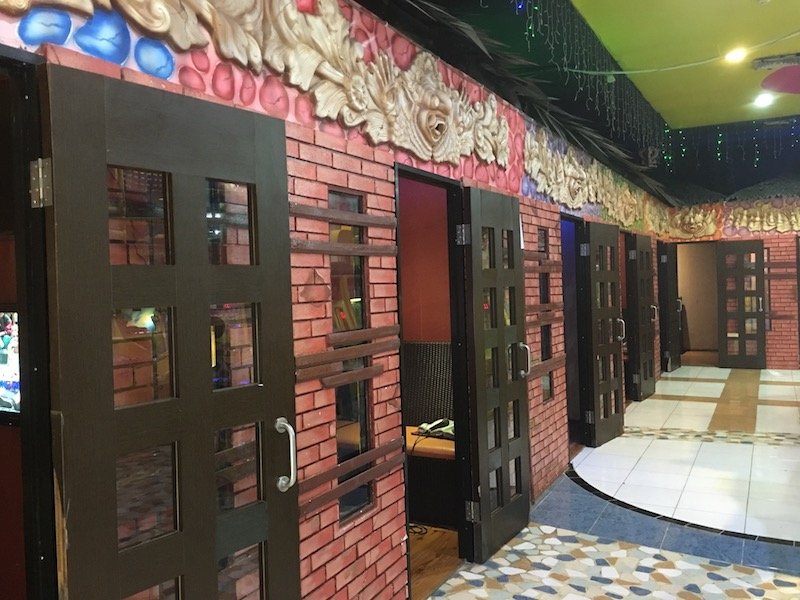 Amazone Karaoke Kuta
Amazone in Kuta also a row of Karaoke studios.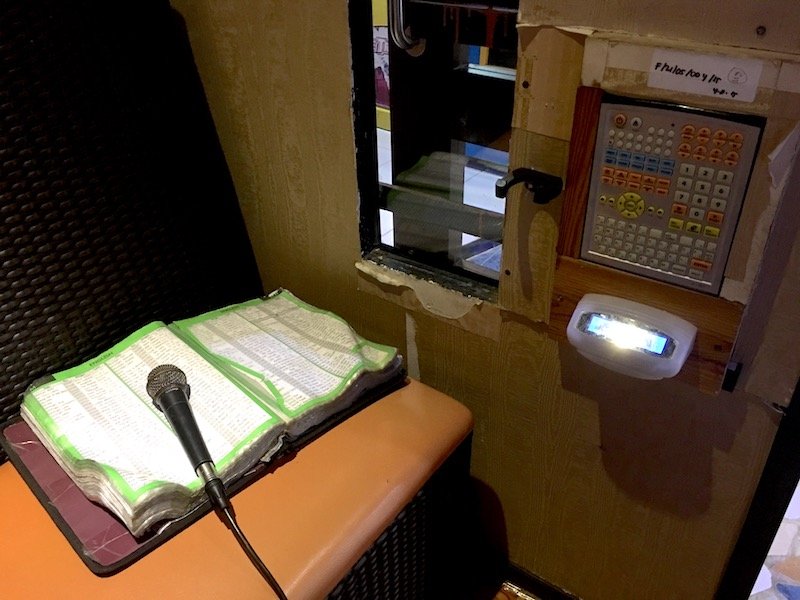 Karaoke at Amazone Indoor Playground Discovery mall
The song books are pretty tatty, and the English song choice isn't huge, but it's a laugh!
Amazone Games Arcade in Kuta is the best bargain to be had in Bali for kids.
I'm thrilled we stumbled upon it.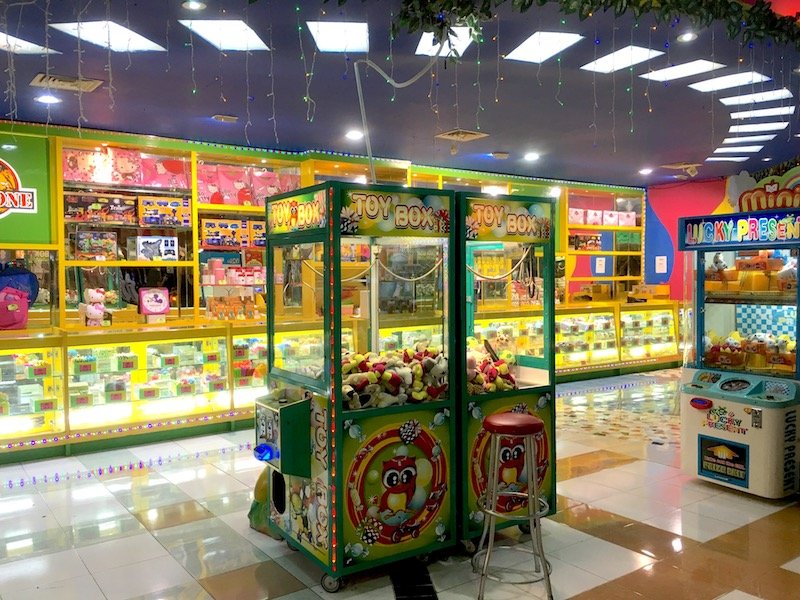 Collect your prizes at the Ticket Desk at Amazone Store
If you've been collecting prize tickets during your visit, be sure to cash them in for prizes at the Amazone shop.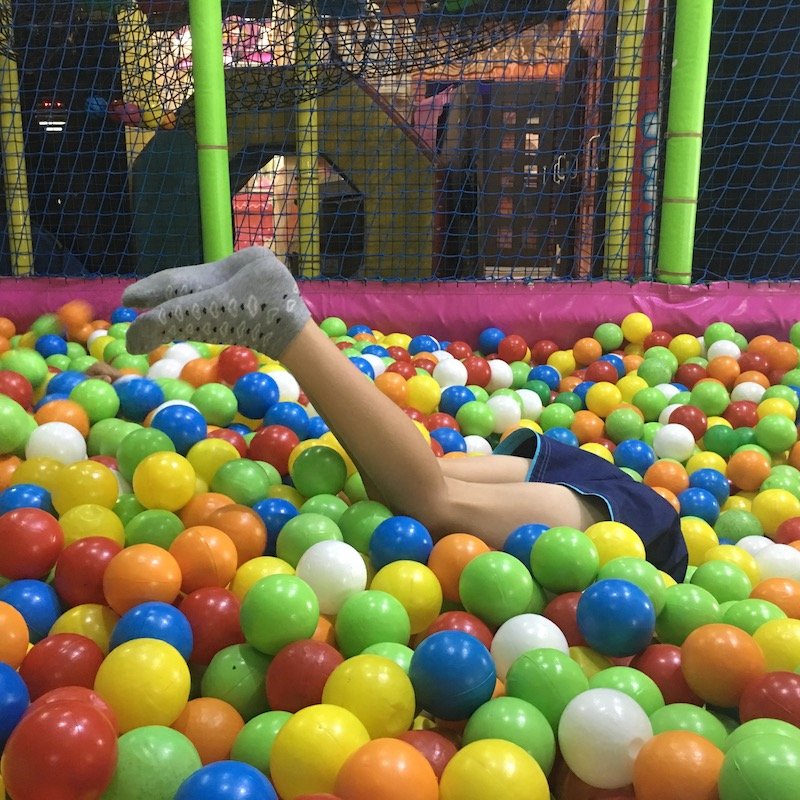 THE INSIDE SCOOP: Amazone Games Arcade Bali
Correct at time of publication on Roam the Gnome. Please check with venue for updates. We apologise in advance if there have been any changes we are unaware of. All prices in AUD dollars, unless otherwise stated
Address: Amazone is on the top level of the Discovery Shopping Mall Kuta, on Jalan Kartika Plaza, Kuta
Telephone: +62 361 755522 (Discovery Mall)
Website: Discovery Mall Bali – coming soon!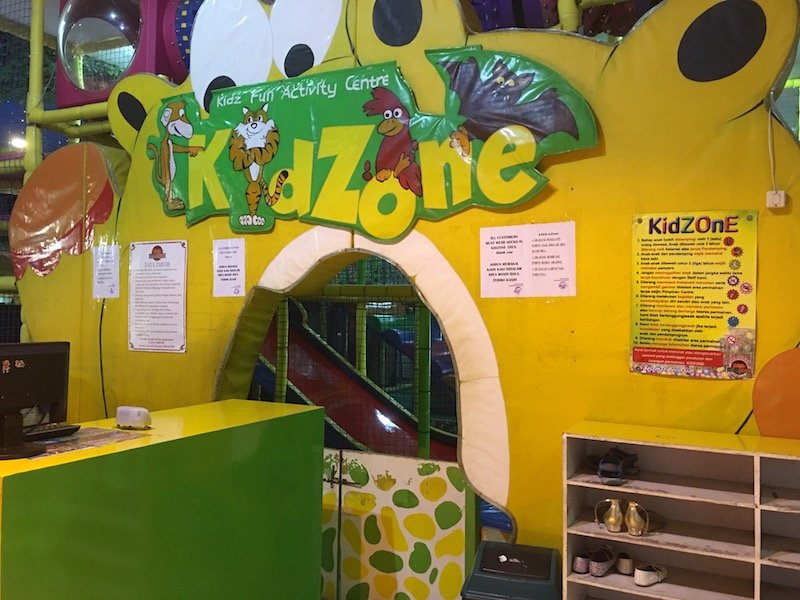 Amazone Opening Hours
Amazone Indoor Games Arcade at Discovery Mall is open from:
10am to 10pm Sunday to Thursday, and
10am to 10.30pm on Friday and Saturday.
Amazone Entry Fees
Wondering about Amazone prices in Bali?
It's free to enter.
Pay only for games, or for the playground.
Start by loading at least 100,000 RP onto your card.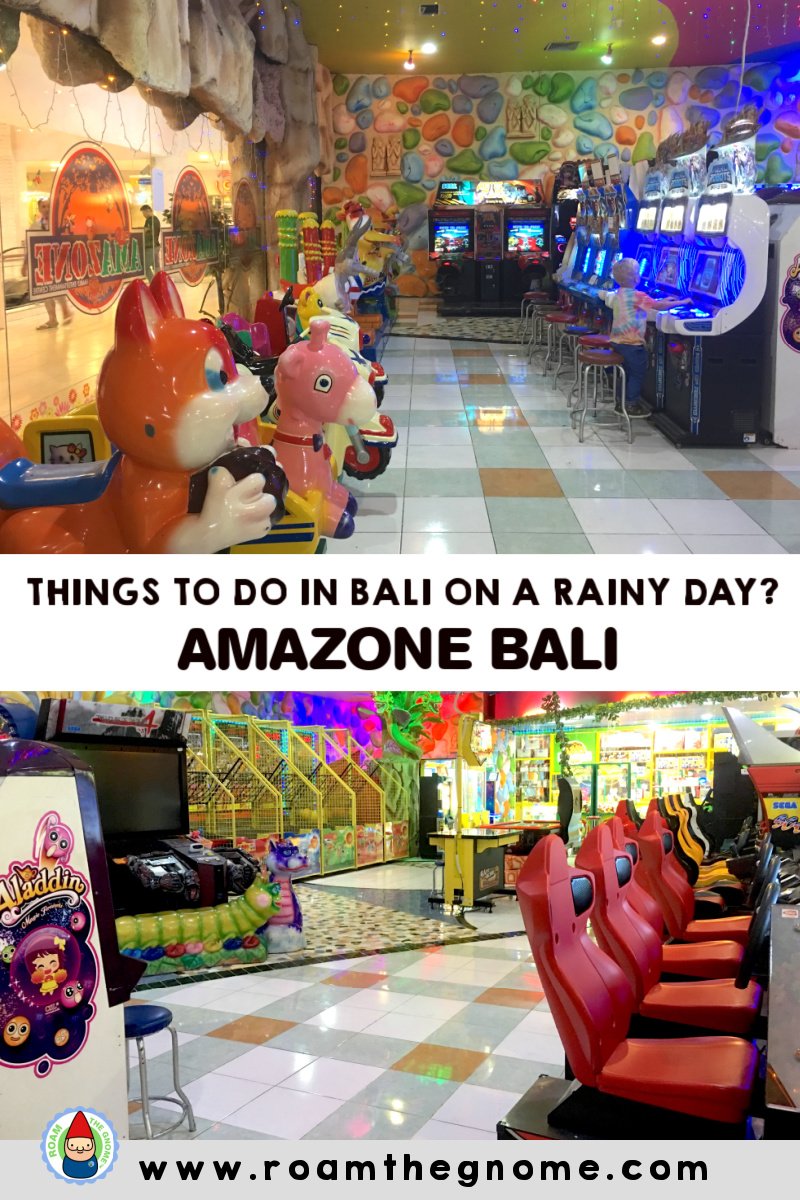 How to get to Discovery Mall Bali
The Discovery Mall is easy to find, located on South Kuta Beach; Bali's most famed stretch of sand.
The Discovery Mall Kuta is opposite the Waterbom Bali and beside the Discovery Kartika Plaza Hotel.
The mall is well known to taxi drivers and there's a taxi rank nearby.
By Bus:
Catch a Kura Kura Bus. Click here for all the details about the Kura Kura bus service.
Disembark at the Waterbom stop, and the Discovery Mall is just a short walk across the road.
On Foot: Make your way to Discovery Mall from any of the Kuta hotels
By Bluebird Taxi/Uber: Catch a metered Bluebird taxi to Discovery Mall on Jl. Kartika Plaza.
By Private Driver: Organise a half-day trip with our favourite Bali tour guide/driver company.
Enter via Jalan Kartika Plaza, or via the beachside pathway on South Kuta beach at the back of the mall, and take the lift to the top floor.
Discovery Mall Bali Parking
Yes, metered parking is available in the basement carpark below Discovery Shopping Mall.
Facilities at Amazone Discovery Mall Kuta
Toilets: Clean toilets can be found in the Discovery Mall. Baby change table available.
Disability access: Yes, good access
Closest ATM:
Look for the ATM corner at the front area of the mall, right next to the entrance.
You'll find Bank Artha Graha, Bank Mandiri, Bank Central Asia, Bank Rakyat Indonesia, Bank Mega, Bank Panin and CIMB Niaga. There is a Commonwealth Bank ATM located across the road.
If you need money changed in a safe place on your Bali holidays with kids, visit Rara Money Changer and Oasis Money Changer, located near the atrium.
Enclosed: The indoor playground is gated. Guard the front entrance to Amazone, and you'll be right.
Food options: Starbucks, plus a whole bunch of cafes and restaurants at the beachside entrance. Food court on the upper level.
Dogs: No
Toadstool Rating – Visit Amazone on your Bali holidays with kids
Grab at Starbucks from the coffee shop at the front entrance of Discovery Mall.
You might be here for a while.

Looking for MORE SUPER DOOPER FUN places to visit and things to do in BALI with Kids?
Click the links in blue for more Bali tips below.